Citrus Heights -- Riverside CA 
There is a brand new development by Lennar just opening up in Riverside California.  These beautiful new homes for sale are located off of La Sierra - east of McAlllister Parkway in the hills.  There will be three communities within this development:  Orchard, Hill Crest - which are both currently being built and Harvest which will come out in the future.  There will be eight "pocket" parks in the community, including a water play park and nearby scenic trails perfect for hiking or biking.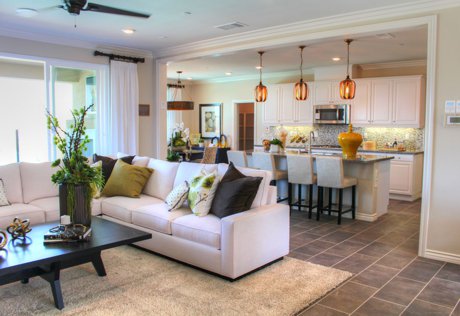 There are six model homes to explore - three for Orchard and three for Hill Crest.  The smallest homes are a single story that is approximately 2413 sq ft and is priced from $562,890 with the largest home being approximately 4644 sq ft and priced from $740,490.   When completely built out, there will be 343 homes in Citrus Heights. 
The HOA fee is currently $150 per month and that is anticipated to go down to $105 once the community is all built.  There are mello roos and the tax rate is approximately 1.9%.  Lot sizes vary from the minimum size in Orchard of 8,000 sq ft, about 10,000 sq ft for Harvest and a minimum of about 12,000 sq ft in Hill Crest. 
The models are gorgeous, of course.  Lennar builds beautiful homes.  I really liked how there were "WOW" signs throughout the models on the  standard features.  The two large models have terrific mother-in-law suites with their own private entries. We were really impressed with these.  
This is going to be a terrific community.  The location in the hills off McAllister creates a very unique neighborhood with lots of great views.  acres and acres of preserved land where no homes will be built.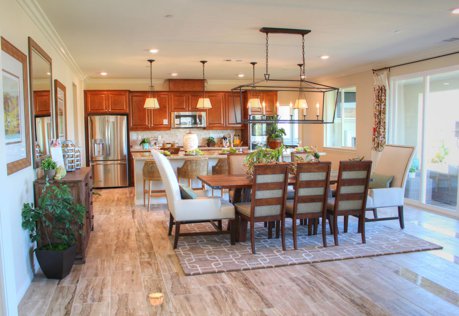 Citrus Heights
13160 Cordial Circle
Riverside, CA
Citrus Heights is located across McAllister Parkway from other developments - The Orchard and Orchard View.