November 2016 Real Estate Market Report  -- Riverside and Corona
Here ae the latest numbers of sales in Riverside and Corona for single family houses.  The market is slowing  - including the number of listings and the number of sales.  Check out the graphs here.  If you would like us to create a market report for a different Inland Empire City, let us know.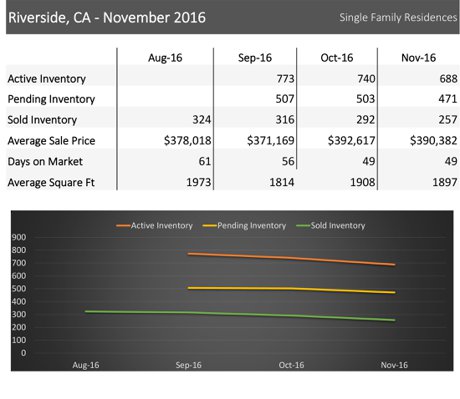 The latest report from Inland Valley Association of Realtors just came out for all residential sales in Riverside and Corona.  For Riverside, the number of sales for the first 10 months in 2016 is 22% over November of 2015 and the median sales price increased in that same time period 6%.  For Corona, the number of sales in the first 10 months stayed the same as a year ago and the median sale price increased only 2%. 

Let us know if you would like to receive a market report for your city or zip code. Search for Corona and Riverside houses for sale.